Street Scenes along Hosur Road
Goutam was very kind to give me a ride back and forth to work on Hosur Road, and I wish I had taken a better picture of him. In this picture we are at a gas station getting a fillup, with several uniformed attendants taking care of the car. You can see a TV and electronics store across the street, and another building project not far away.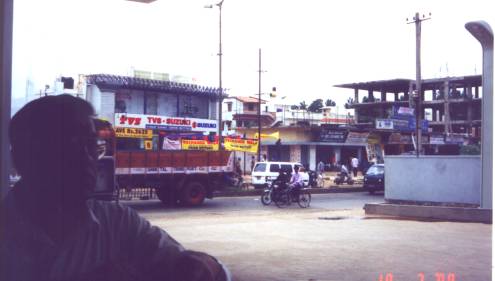 Hosur Road is where Electronics City and much of the software and high tech industry is located. Throughout Bangalore most of the many billboards were for dot.com companies, like all other high tech cities in the world that I have visited lately. I particularly enjoyed the billboards for PrizedJobs.com; this is just one of several that I saw, all with a similar theme....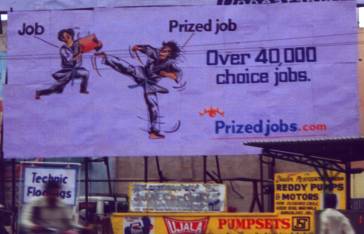 This scene is typical not just of Hosur Road, but of many of the streets in Bangalore. There are lots of small retail shops, there are people and animals walking on the edges of the road, and there are many scooters, auto-rickshaws, and bicycles in the traffic. They drive on the left.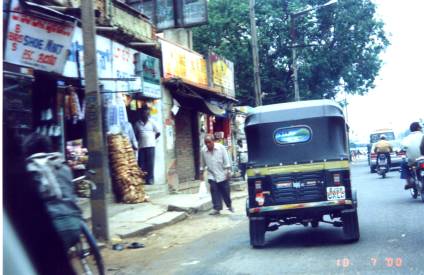 This open air ladder store was along Hosur Road.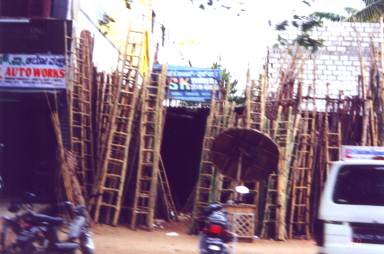 Traffic in Bangalore is stunningly dense and chaotic, at least to my eyes. All different kinds of traffic mixed together indiscriminately, all flowing pretty continuously, with most of them appearing to ignore stop signs and stop lights. It was routine for vehicles to pull into the other side of the road to pass slower vehicles, even with oncoming traffic pretty close. Especially busy intersections had traffic policeman such as this gentleman in the Aussie style hat on the left. They would get involved and give directions in a very low key way to my eyes, but the traffic all obeyed them.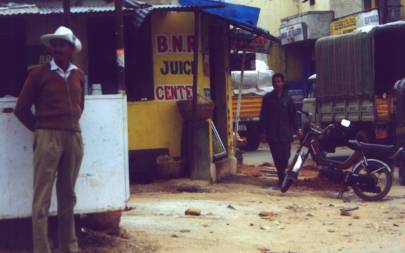 This scene shows some of the complexity of street traffic. There is a big truck starting to pass the cart on the right, and scooters, motorbikes, auto-rickshaws, and buses are flowing behind the truck. I love urban bicycling, but I would need a lot of observation and training before I would be ready to ride on these streets - everything flows quite fast in patterns I had trouble following.