Chris and Robert Diving - The Movie
This Quicktime video shows us swimming over the wreck of the Benwood, near French Reef. The Benwood is a fascinating wreck in relatively shallow water, with many beautiful fish circling around it. We saw 5-6 big barracuda very close, big angelfish, sergeant majors, yellow tail snappers, blue tang, parrotfish, trumpetfish, grunts, and lobsters on the deck.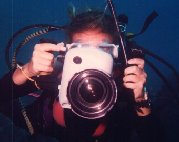 We were fortunate to have Donna McLaughlin of McLaughlin Photo & Video along on the Sea Dweller III to take underwater videos of everyone. I bought the videotape she produced for the dive trip, enjoyed watching it, and digitized this clip on our Apple PowerMacintosh 8500. I recommend her services if you are diving near Key Largo or Tavernier. Here is my picture of Donna taking a video of me...

If you don't have the Quicktime plug-in for your browser, you can download QuickTime now for Mac OS, Windows 95/NT, or even Windows 3.1. I apologize if you have to wait a long time to load the entire movie (1.1MB).